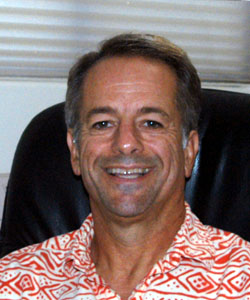 Dr. David Huntley, Professor Emeritus, SDSU Dept. of Geological Sciences, passed away Saturday, July 4, from breathing complications related to ALS (Lou Gehrig's Disease). He is survived by his wife, Linda (Lina) Clark; daughter, Sabrina Parker; and grandson, Jake Parker. For the past 30 years Dr. Huntley has been a principal technical expert for San Diego County's groundwater regulations and various technical issues. In 2014 the Groundwater Resources Association of California presented him with a "Lifetime Achievement Award" in recognition of his contributions to environmental science and his impact on a generation of hydrogeologists. He was also bestowed the honor of a 2013 David Keith Todd Distinguished Lecturer, and March 11, 2014 was proclaimed "Dr. David Huntley Day" by the San Diego County Board of Supervisors.
Dr. Huntley earned his PhD from the Colorado School of Mines in 1976 and subsequently taught at the University of Connecticut then San Diego State University from 1978-2005. During his tenure he supervised over 60 Masters' theses and taught groundwater courses to more than 1,000 undergraduates. Over the years he received numerous job offers from industry but his response was always "it would be exponentially better for them (industry) if I continued my research while teaching students to be excellent groundwater hydrologists." He was known as a demanding professor who approached hydrogeology in a mathematically rigorous and challenging manner but his students often became his friends for life and frequently give him credit for their successful careers.
In addition to being a highly respected instructor, his groundbreaking work on the movement of petroleum hydrocarbons changed how practitioners viewed the effectiveness of certain remediation practices. He provided quantitative measures of potential recovery rates via simple tests, methods that were adopted by industry and continue to inspire research. Dave also served as Associate Editor of the professional journals Groundwater and Groundwater Monitoring and Remediation, and as a private consultant for both industry and regulatory agencies throughout the United States.
Dave's life was not defined by his career however. Growing up in San Mateo, CA he became a lifeguard, scuba diver, wrestler, and earned a black belt in judo. Later his passions expanded to surfing, downhill skiing, sailing, racing sailboats and cars, photography, and traveling all over the world. Many San Diegans know him for his involvement with triathlon and the Challenged Athletes Foundation (CAF) for which he raised tens of thousands to help wounded warriors and challenged athletes of all ages lead a healthy and rewarding life. In 2011 he added to his long list of achievements completing both the Boston Marathon and Ironman New Zealand. He completed an Ironman 70.3 in St. George, Utah in 2013 even after he suspected he had ALS. He was officially diagnosed in June 2013 but completed a 1- mile ocean swim continuing his support of the Challenged Athletes Foundation 4 months later.
In addition to fundraising for CAF, Dave donated generously to numerous charities throughout his life. The consummate coach, he was a mentor to many whether instructing them to ski, swim, sail, or compete in their first triathlon. Dave was extraordinarily capable, generous, a genuine friend, the voice of reason, and comforted many with his words of wisdom. His many friends and family will miss his passion, his compassion, his biting wit, his intellect and his knowledge.
Dave is a founding member of the global grassroots campaign to urge the FDA to use Accelerated Approvals (AAP) for promising drugs to treat terminal illnesses like ALS: www.change.org/ALSMedication . Up until his death he remained active as a science advisor to the organization he and his wife helped create, Hope NOW for ALS. His wife continues to be a leader of this organization that is meeting with the FDA to foster pathways that will accelerate the pace of drug discovery and access to those affected by ALS, people with an average life expectancy of just 2-5 years.
A celebration of Dave's life will take place on August 8, 2015, 2-5pm at the La Jolla Bridge Club. Suggested attire is Hawaiian in keeping with Dave's image and attitude about life. Charitable donations in his name can be made to www.HopeNOWforALS.org or to the CAF team IM~Possible racing in his honor this year: http://caf1.convio.net/site/TR?px=1006425&fr_id=1050&pg=personal